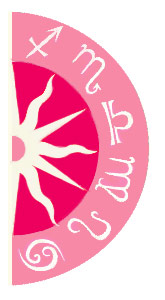 Alex Pettyfer turns 22 today, and news is out that he's engaged to Elvis' granddaughter, actress Riley Keough. While confirmation is still not 100 percent, the two have been dating for six months. While that's not much time to bank "forever" on, this is Hollywood and longevity is just another word. So, can this pair last?
Share a free sample 2014 Vedic Moon Sign Forecast.Take a look at how the transit of planets will affect your relationship and finances in 2014!
Alex is an Aries. Riley is a Gemini. Together, between their Sun and Air elements, there is a good camaraderie that makes hanging out fun and easy. Plus, they both have compatible Moons, in opposing Libra for him and Aries for her -- which denotes balance and teamwork. Additionally, their Venus and Mars -- the other two important planets in their astral synchronicity -- have mirrored compatibility. His is Pisces and Aquarius; hers is Gemini and Cancer, giving them an emotional bond and sexual chemistry. All in all, this pairing has the stars behind it, showing that it may last for more than a Hollywood minute.
Got Questions? Need Answers? Get insight into what lies ahead with a Psychic Reading. Call 1-800-749-5790 right now!