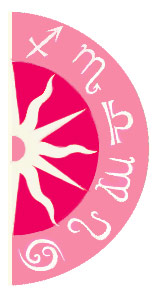 Over a year ago, Amanda Bynes said she was retiring, but then reappeared. Nobody thought it was that odd. But now she's acting crazier, first charged with a DUI and then ticketed for back up onto a curb at the Chateau Marmont while too busy texting. She's looking like a hot mess. Is there an end or is she turning into the next Lindsay Lohan?

In 2006, she was on People's hottest-stars-under-25 list, but since 2010's Easy A, her career has hit a deadend and she's crashing hard. As an Aries, this is bad and good, as Rams can be very self-destructive and headstrong, going with their gut reactions without thinking of consequences. However, they are also the sign of ideas and fearlessness, so a bounce back could occur. Chances are it'll be in TV as her Third House gets lit up by Jupiter, a solar eclipse and Venus throughout the summer. If she can dry out, Amanda could redeem herself -- and her career.
Can't get enough astrology?
Like us on Facebook!