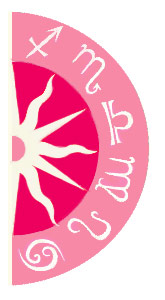 Dear Astro Auntie:
Q:
My love life is crazy and nothing ever lasts very long. Sometimes that works out for me and other times I wonder "What the hell happened?" Can you help? I was born April 11 1979 at 6:18 am.
A:
With your love planet Venus in compassionate Pisces, there's a giving side to your nature that knows no boundaries. While this means your lovers get the best of you – it can leave you empty from doing too much for your partner. Learning to develop boundaries in love will totally change your experience of relationships.
Venus aligns with the fated South Node in your chart, showing there is often a past life connection to your romances. This can make it hard to consciously analyze a partner's suitability, and means you often get swept up in the power of love, neglecting the reality of relationships.
With passion planet Mars in independent Aries, you can put yourself first – try to do this more in the beginning of your relationships for improved dating success.
Serious Saturn triggers Mars, which also symbolizes men, in your chart November '09, March and August '10. These will be months where you'll mature and develop new skills about men and relationships. Set clear limits on what is and isn't ok for you in love then. Older or more experienced men appeal as you realise you want someone who'll stick around.
Can't get enough astrology?
Like us on Facebook!