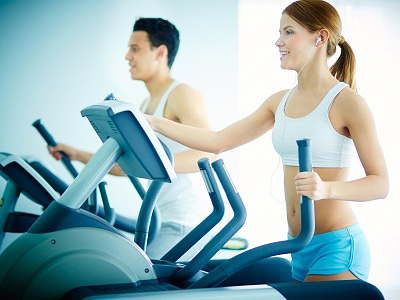 You've fallen off your diet (again). Or used the cold dome as an excuse to cocoon instead of activating that new gym membership. Here's a sign-by-sign guide to making important lifestyle changes that will benefit you for a lifetime.
ARIES
You're the first to get on the fitness train -- and equally quick to get bored with the routine and fall off the wagon. Break bigger resolutions into smaller weekly or monthly ones, and attack each in turn. Competition is your biggest motivator, so regularly challenging a friend to a fitness contest will keep you on track.
TAURUS
You love a sedentary lifestyle and your sweets -- and it's just so hard to give them up. Research shows it takes 21 days to form a new habit. Pinpoint your fitness goals and then tackle one at a time and persevere for three weeks. Once you do, chances are you'll eventually end up with a healthy new routine that will be there for good.
GEMINI
You can be surprisingly fixed in your approach to dieting -- once you've made up your mind. The trouble is getting you to that point. You love to keep up with the latest diet or supplement, and want to try everything. Set a goal and put on the blinders; you'll soon see encouraging and motivating results.
CANCER
Emotional eating is your downfall and you tend to pack the pantry with food. Turn this tendency into an asset. Find recipes for low-fat and reduced calorie versions of your favorite comfort foods. Then turn them into pre-prepared and portion controlled meals, and load up your freezer with them. Now you have time for exercise class!
LEO
You can be very proactive about fitness and will persevere with the right motivation. Tap dance, salsa or zumba appeals to your fun and flirty side. You need an audience, so join a group or rally a few friends who will applaud your efforts. Get a new full-length mirror so you can try on new outfits that show off your slim new physique.
VIRGO
You are well informed about healthy lifestyle and can list all your dietary sensitivities. Too often, though, your knowledge fails to get put into action, lost in the chaos of your busy schedule. Consult a professional and set up a sensible plan. Then use your organizational skills to track your progress. Remember to include downtime.
LIBRA
Your biggest challenge is to embrace a healthy lifestyle for the right reasons: for you. Don't make changes to please your partner or to fulfill some ideal of what you should look like. That's not to say you can't have a fitness buddy to workout with and share dieting tips. In fact, it's the best strategy to keep you on track.
SCORPIO
Once you make up your mind to get healthy, there's no stopping you. Your willpower is formidable especially when it comes to your diet. You tend to exercise sporadically, though. Look for an activity that also has an element of sexy fun, like a pole-dancing class, and you'll find you're highly likely to stick with it.
SAGITTARIUS
Your easygoing, "whatever" approach is your downfall. You tend to consume whatever is available or in front of you, with a weakness for high-fat foods. Small changes to your diet will yield big results over time. Make sure to include an exercise component. You enjoy any activity that takes place out of doors, so make it a regular occurrence.
CAPRICORN
You're good at setting systematic goals and sticking with them. If you don't get immediate results, though, you can get down on yourself. Remind yourself that you need to be in top shape to achieve all your lofty career aims. Include stretching sessions or yoga, as you need to be more flexible in more ways than one.
AQUARIUS
You have the most effective wellness plan going -- the trouble is, it's all in your head! An intellectual sign, you need to push yourself to put all that theory into practice. Motivate yourself by joining a group, a setting in which you shine. Sharing your experiences and knowledge will help inspire others to achieve.
PISCES
You need fitness goals, but will fail if they are too unrealistic or involve a strict regimen. Set up a safe and sound program, then look for a strong like-minded person who can serve as a mentor and offer gentle encouragement. Use visualization techniques; picture your ideal self and you'll soon achieve it.