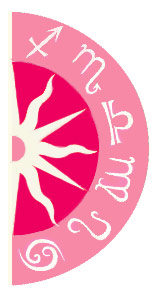 Since Ashton and Demi ended, he didn't waste much time to get himself hooked up again. This time with Mila Kunas -- while they have yet to confirm they are a couple, they have been seen together enough times to reveal there is something happening. Plus, recent pics of them vacationing in Bali makes fans wonder: Are they in love?

Share a free sample 2014 Jobs and Money Forecast. Master your money and attain success with this startlingly accurate forecast!

Yes, these That 70s Show alums have a lot of heat. Ashton is an Aquarius with a Gemini Rising, while Mila is a Leo with a Sagittarius Rising. Together, they are a perfect pair to have fun, get each other on an innate level and be the best of friends. However, emotionally, there is a bit of tension, as Mila's Mars in Leo does overpower Ashton's in Cancer -- and their moon signs square, with Ashton's in Aquarius and Mila's in Scorpio. All in all it's a very hit or miss kind of bond, as in when they are in love, they are totally in love and when the clash, they go at it head to head. Chances are there is a deep love there, with the companionship as their greatest connection.
Will a new career create more prosperity and success in your life? Find out with a Psychic Reading. Call 1-800-749-5790 right now!