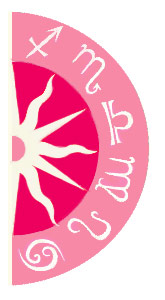 Stop thinking! Okay, I know that's a bit extreme, but the reality is that we're all subject to unconscious thinking that has nothing to do with our potential reality. We see the Gulf oil spill and think there will be endless pollution and death. We see our flabby belly or aging skin and think we are becoming unattractive. From planetary issues to the personal, the mind has an automatic and habitual pattern of response that acts as if what has happened before will continue to happen, that imagines our fears to be reality, and therefore continues to manufacture and create predictable experiences.

Imagine the power of all of our minds linked together with a new, creative and completely different paradigm as the mantra thought. As Uranus has just entered Aries for the next eight years, an awakening to new, creative inventions and ways of living is about to be unleashed. Expect the unexpected!

The oil spill is the wake up call we need. As we channel our light energies around the oil, imagine brilliant young inventors and their ready inventions to recapture the oil and clean the ocean even better than before, new conscious rules around drilling as well as more money poured into alternative forms of energy that are even better than we've imagined before. Refuse the buy the fear and hopelessness.
Share a free sampleSexual Soul Mates Reading.This hot and steamy reading for two will help you uncover your deepest desires and enhance your connection as a couple.
We can view our face and body and see our exquisite uniqueness, the body as the magnificent clothing of the soul. Imagine health and vitality, oxygen permeating each cell, beauty within forming beauty throughout the internal organs as well as generating true natural beauty on the outside. Dropping judgment of others facilitates our own acceptance.

Now is the time to open our hearts and minds to brilliant new ideas and ways of living. Equality and respect for all living beings and nature will results in a more satisfying way of life for all of us. It's not just politically correct; as the earth and each being on it is made of the same energy, the pain of others is part of our pain. We are tired as our share of the struggle of others. We are empowered and filled with joy as we imagine the healing of the earth and the awakening of others.
The spiritual revolution is really beginning to heat up right now. Love and consciousness will hold us steady in the hurricane of change.


Got Questions? Need Answers? Get insight into what lies ahead with a Psychic Reading. Call 1-800-749-5790 right now!