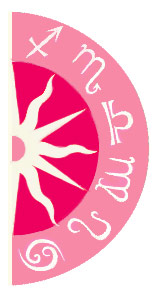 Focusing loving thoughts and energies into this gua (located in the back, right-hand corner) will encourage happy, healthy and passionate relationships that will both nurture and nourish you.
The color ascribed to marriage and partnerships is pink.
Feng Shui Tip
Just pick and place a pair of pink anything here -- roses, candles, lovebirds -- and get ready to realize right relationships.
Can't get enough astrology?
Like us on Facebook!