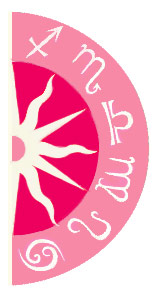 Leon Bennett/Wireimage
Bobby Brown is getting married! Whitney Houston's ex recently proposed to his manager and girlfriend of three years, Alicia Etheridge, by kneeling down on one knee and proposing on stage at Funk Fest in Jacksonville, Fla., while she was holding their 11-month-old son. Of course, the crowd cheered on as soon as she said, "Yes." But are these two a good match who can stay together for the long run?
Share a free sample 2014 New Astrology Forecast.Get your 2014 Year of the Horse Astrology Forecast featuring your Chinese and Western Signs today!
Astrologically, Bobby (Aquarius) has perfect timing for marriage. Mars (planet of passion) is in his commitment house, and his Capricorn Rising is being lit up by an eclipse cycle that affects his identity and partnership sectors. So any changes made during this period are auspicious. Plus, his Moon sign -- the ruler of emotions -- is in Virgo and is currently in alignment with Jupiter (planet of luck). With all these signs in order, it points to one thing: Bobby and wife No. 2 are most likely together for life.
Got Questions? Need Answers? Get insight into what lies ahead with a Psychic Reading. Call 1-800-749-5790 right now!