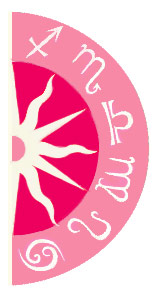 As we move into winter, be sure to strengthen your physical vitality in order to endure the cold weather. Here's a sign-by-sign guide about which parts of your body to pay particular attention to. [Note: Please consult a physician before making any major changes to your diet, or introducing new supplements or herbs.]
Aries
Circulation and energy are key for the Ram. Keep your muscles moving with short but intense workouts. Iron, potassium and B vitamins are important, so if you're not getting enough through your diet, consider a quality supplement. Ginseng, nettle, gingko, sage, rosemary and garlic are great herbs for Aries. And perhaps most important: keep your head protected from extreme weather!

Taurus
Be sure to keep your throat, neck and vocal chords in tip-top shape. Wrap your neck with a bright scarf and stock up on soothing teas like licorice, slippery elm or valerian. Iodine and chromium are great supplements to help manage any sugar cravings the Bull may experience in the dead of winter.
Gemini

Gemini rules the lungs, shoulders, arms and hands, so keeping your chest warm through winter is key. Magnesium and vitamin E are great supplements for you, as are essential fatty acids. Herbs like sage, lemon balm, Echinacea and lavender will keep you healthy.
Cancer
Your sign is associated with digestion, stomach and breasts, so you must keep your tummy happy as the weather turns. Digestive enzymes and calcium are important supplements. Stay warm and keep yourself regular with herbs like peppermint or chamomile, and treat yourself to hot dandelion or raspberry tea often.
Leo
The Lion is ruled by the heart and spine, so keep your ticker happy by sticking to an exercise routine. Magnesium and vitamins A, B and D are essential. Great herbs for staying healthy include chamomile, parsley, fennel and dandelion.
Virgo
Share a free sample 2014 Romantic Forecast.Get a free preview of your one-week Romantic Forecast! Make the most out of your love life!
Digestion is your sign's main physical connection, so digestive enzymes, magnesium and vitamin E are essential for your health. Include the following herbs for a boost in energy: dill, fennel, lavender, peppermint, valerian and slippery elm.
Libra
Libra is associated with the kidneys and urinary system, so drink plenty of fresh water daily. Being ruled by Venus means sugar cravings can be a problem for you; include chromium and iodine in your diet to curb the urge. Healing herbs and foods for you include ginseng, juniper, parsley, celery and licorice.
Scorpio
The elimination and reproductive systems are your sign's territory in the body. Selenium and antioxidants are key to keeping your system clean and clear, as is zinc. Herbs such as dong quai, ginseng, raspberry leaf, fenugreek and nettle help ensure maximum wellness.
Sagittarius
Hips and thighs are Sagittarius body parts, so maintain a walking, stretching or lunging routine for maximum wellness. Magnesium, chromium, vitamin C and zinc are healthy supplements for you. Include herbs and foods like dandelion, oats, celery and sage in your recipes for wellness.
Capricorn
Since your main body parts are the skin, bones and teeth, healing supplements include calcium, magnesium zinc and vitamins A, C and D. Staying warm is especially important for you, so drink plenty of hot tea through the winter such as chamomile, fenugreek or comfrey, and include herbs like hypericum, elder and alfalfa in your diet.
Aquarius
Your sign is connected to the ankles, calves and nerve impulses, so keep your neurons firing with plenty of manganese, magnesium and essential fatty acids. Herbs that are especially healing for you include valerian, yarrow, nettle, elder, garlic and prickly ash.
Pisces
The feet, toes and lymphatic system rule Pisces, so walking or swimming are key to keeping fluids flowing and avoiding puffiness. Be sure to stock up on antioxidants, vitamin C and zinc before the weather turns, and you'll also benefit from the following herbs and teas: Echinacea, myrrh, yarrow, sage, nettle and garlic.
Got Questions? Need Answers? Get insight into what lies ahead with a Psychic Reading. Call 1-800-749-5790 right now!