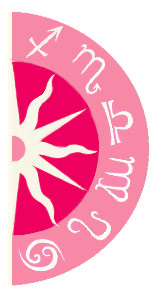 Brad Pitt is campaigning hard for Oscar this year and part of it is spilling the beans on Brangelina. Once vowing to never marry until gay marriage is legal nationwide, he is now retracting his comments, saying the kids are pushing for it and he wants it more and more. So, can this be the year Brad and Angie tie the knot?
Share a free sample 2014 Day-By-Day Forecast.Look forward to 2014 with this forecast as your road map. Get a free one-week preview now!
Yes! As the
Gemini
and
Sagittarius
eclipses are tearing apart long-standing couples, like Seal and Heidi (Gemini) and Johnny (Gemini) and Vanessa, they can also bring together couples like Brad, a Sagittarius, and Angelina, a Gemini. As it goes, eclipses are harbingers of change and can cause sudden shifts in identity and relationships for those whose primary sign is Gemini or Sagittarius. So, if they aren't already secretly married, chances are to look at a spontaneous summer or the end of the year to be the time when we may hear wedding bells for these two Hollywood hotties.
Got Questions? Need Answers? Get insight into what lies ahead with a Psychic Reading. Call 1-800-749-5790 right now!