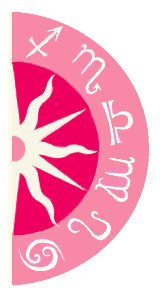 Erika Goldring/Getty Images
Demi Lovato shocked fans Monday when she checked herself into a treatment center with a source saying she had struggled with an eating disorder and cutting. The news about the 18-year-old Disney star made people wonder if she'll be okay to return to the pressures of Hollywood?
Share a free sample 2014 Romantic Forecast.Get a free preview of your one-week Romantic Forecast! Make the most out of your love life!
Demi is a Leo, the sign of the performer, and her life belongs in the spotlight. However, learning how to balance it all is hard for any teen, especially when the entire world is watching. No doubt, she will rise even higher after her stint at rehab, as her foundation house in her solar chart is Scorpio and once Scorpios hit rock bottom, then tend to bounce back even stronger (after all, they're symbolized by the phoenix). Plus, with her Moon in the most solid position, Taurus, she is a girl that won't give up. Hopefully, with the tools she'll learn in treatment, she'll be able to cope better with the struggles that come her way.
Got Questions? Need Answers? Get insight into what lies ahead with a Psychic Reading. Call 1-800-749-5790 right now!