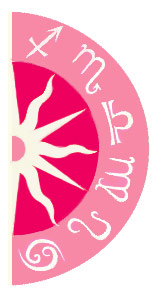 Hilary Swank has gone from two-time Oscar winning actress (Boys Don't Cry (1999) and Million Dollar Baby (2004)) to this year being a straight-to-DVD actress with her film The Resident (in which she also executive produced). While her latest movie, New Year's Eve, in which she plays a reporter in an all-star ensemble, is being hyped and putting her back in the press, can her career be saved or is she doomed from the Oscar curse?

Share a free sample Friends and Lovers. Are you two best friends and lovers? Try a free sample of this powerful reading today!

Thankfully, good times are heading Hilary's way! As a Leo, she has Jupiter in her solar career house until June 2012, which will help boost her back to star status if she plays her cards right. Plus, she is having her Mars Return (with solar Mars in Virgo) which means she is the jackpot winner of the Mars transit lasting until July 3, 2012 -- an epic stay of the ambition planet! This means the early part of 2012 will be a hectic year, with opportunities for Hilary to play roles we want to see her in -- so let's hope she chooses well.
Seek wisdom from your inner self! Get a Free Spiritual Reading today. Call 1-800-749-5790 right now!