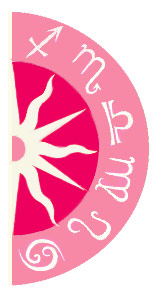 Still leftover from Election 2008 is Sarah Palin, the lady that stirred the pot for the Republicans in a major fail. While she didn't win V.P., she won fame and then went rogue. Now, her daughter Bristol is a contestant on DWTS: All Stars and it's putting Sarah back on primetime. Will this attention make her hungry for more?

Sarah is an uber Aquarius (Sun, Moon, Mercury, Mars, Saturn) with a Libra Rising. Ruled primarily by Air, this means she's a lady who's always willing to weigh in her opinions -- like recently saying America needs a "come-to-Jesus" moment. So the good news for Democrats is that Sarah's career house has to deal with Saturn in Scorpio being in a tight aspect to all her Aquarius planets, which could cause a standstill of her reputation. Plus, this Saturn will go against her Saturn in Aquarius, causing a trying time where she'll have to work twice as hard to gain the respect she thinks she deserves. That said, Scorpio is a sign that forces transformation, so after this three-year cycle, it's anyone's guess how she'll work to pull through this tough transit. If anything, we all know this lady is scrappy.
Can't get enough astrology?
Like us on Facebook!