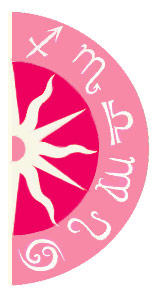 Winona Ryder is back, doing the film festival circuit for her upcoming film,
Iceman
-- and the press is loving it. Having made a small comeback in
Black Swan
, the '90s starlet has yet to make a full return to her once A-list status. So is it "Winona Forever" again or "Winona Forget Her"?
Share a free sample 2014 Jobs and Money Forecast.Master your money and attain success with this startlingly accurate forecast!
Winona is a
Scorpio
, a sign known for its amazing ability to transform and rule. With Scorpio about to go into serious
Saturn
for over two years, she'll have obstacles to work out, but if karma is on her side she'll get the help from the people around her to come back onto the scene. Luckily, she's also entering an eclipse cycle in her solar
First
and
Seventh
Houses starting in November, which will bring sudden positive changes to her identity. Additionally, with her
Sagittarius
Rising, she's had the power of its eclipse cycle working in her favor. In general, the upcoming year will be one of many surprises for Winona.
Got Questions? Need Answers? Get insight into what lies ahead with a Psychic Reading. Call 1-800-749-5790 right now!