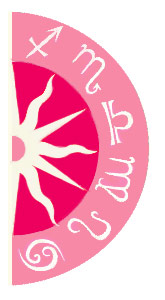 The full moon lunar eclipse in 5 degrees Capricorn may be a tough one to swallow for a sudden change will occur. Sudden changes happen with all eclipses, but with this one it's doubly so since Uranus is in the picture. You could find yourself ending a relationship or reaching a culmination point. The events caused by this eclipse will most definitely feel meant to be, however. These things are happening at this time to accelerate your growth. I know this all too well from the events that took place the month of August 2008. A solar eclipse occurred on the 1st in 9 degrees Leo (my house of partnerships.) With solar eclipses, events usually take place with a man. The main man in my life was my boyfriend and that month I had the biggest falling out with him while we were 3,000 miles apart. It was so drastic and horrible that I ended up cutting my trip short. As soon as I landed in NY and fought with him over the phone, I left the next day. Our relationship's demise happened from there and I ended up seeing a therapist because of it all. It wasn't long before I realized that I needed to cut ties with him forever. But with the June 26th lunar eclipse, there's a possibility the events may involve a female figure, so keep that awareness. This one will be quite difficult because of powerful Pluto and Uranus's influences. The event will happen suddenly like a big slap in the face. For some of you it could be a wake up call! Mine was for me. At first it seemed horrible, but now I look back and I'm grateful. I'm grateful I got out of an abusive relationship. Don't fear the change with the eclipse. It's happening for good reasons! Whether it's to get you out of a bad relationship or to teach you a life lesson, you'll be stronger from it in the end. Remember, change is good!
Can't get enough astrology?
Like us on Facebook!