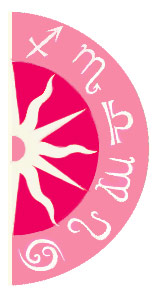 Passion-Gourmet.com
Astrology-based dishes may bring about optimal bliss. Depending on the planetary alignment, the Sun and the Moon, we can prepare delicious recipes to help the capriciousness of the Stars!
The last day of the year has Mercuring squaring Mars. Therefore, practicing what you preach should be the norm of the day. This is a great mentality to have as 2012 plays peek-a-boo. Beginning another cycle by thinking carefully if you are willing to talk the talk and walk the walk will help you to keep your intentions paired with your actions.
In order to end the 2011 and receive the new year the right way, a cocktail made with sparkly wine is appropriate! After all our hard work and to celebrate the newness of life, a classic Kir Royale is the perfect way to say to the Universe: I am a winner, I am prosperous, I am grateful and I am ready to rise! The red will show how ready for passion you are. Think of the bubbles as the many blessings coming your way. The gold represent prosperity. As you raise your glasses, smile and shout Salud!
Share a free sample2014 Jobs and Money Forecast.Master your money and attain success with this startlingly accurate forecast!
New Year's Kir Imperial
1 bottle of French Champage, do not use anything expensive
2 tablespoons of Chambord per flute (Champagne glass)
edible gold dust
Chill the Champagne glasses (flutes) in the freezer. Add two tablespoons of Chambord to each one. Fill the flutes to the top with the Champagne. Finally, sprinkle with a little edible gold. Drink while very chilly.
Got Questions? Need Answers? Get insight into what lies ahead with a Psychic Reading. Call 1-800-749-5790 right now!