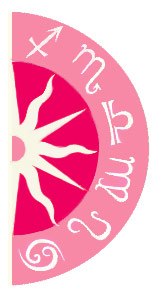 Imagine that your wedding has its own personal goddess to watch over it. This special deity will bestow blessings and good wishes on your nuptials and beam down rays of love and harmony throughout your ceremony.

Dream no more because Venus -- the goddess of love and beauty -- is ready to spring into action to add some Venusian vibes to your happy day!

Find out what sign Venus will be in on your wedding day (dates listed for each Venus sign), and all you'll need to do in exchange is make a little offering to the goddess. Then, watch Venus work her magic on your behalf!

[*Important Note: Venus is retrograde from October 13 through November 18, 2010. Since weddings are best celebrated on a forward-moving cycle, it's best to hold off on your nuptials during this time.]

Aries (April 22-May 15, 2011)
Venus in Aries Offering: Think red and display a bouquet of gorgeous tulips or a bowl of luscious cherries to honor this fire goddess.
Venus in Aries Blessings: A Venus in Aries wedding is blessed with a potential for passion, fun and honesty.

Taurus (May 16-June 9, 2011)
Venus in Taurus Offering: Chocolate is the way to go with Venus in Taurus. Give a piece to each guest or feature it in a prominent location.
Venus in Taurus Blessings: Venus in Taurus weddings will be blessed by sensuality, comfort and a sense of security and sustainability.

Gemini (June 10-July 4, 2011)
Venus in Gemini Offering: This airy Venus will appreciate bubbles blown in her honor, or flowers that attract butterflies and other winged creatures.
Venus in Gemini Blessings: Venus in Gemini weddings are blessed with wit, intelligence and many interesting conversations. Expect lots of new connections and friendships to be made.

Cancer (July 5-July 28, 2011)
Venus in Cancer Offering: This lunar-ruled Venus loves being honored with Moon symbols and she also loves the color silver, as in the "silvery light of the Moon". Place a silver Moon statue or something similar in a prominent place at your wedding.
Venus in Cancer Blessings: Venus in Cancer will bless your wedding with good family vibes, a sense of connection to your history and a warm, connected feeling.

Leo (June 15-July 10, 2010)
Venus in Leo Offering: Solar-ruled Venus in Leo loves the Sun and the color gold. Honor her with both on your wedding day.
Venus in Leo Blessings: Venus in Leo will bless your wedding with a child-like feeling of fun and playfulness. This is a day to party and have a great time.

Virgo (July 11-August 8, 2010)
Venus in Virgo Offering: Venus in Virgo appreciates respect for the Earth, so honor her at your wedding by recycling, composting and being eco-friendly.
Venus in Virgo Blessings: Venus in Virgo will bestow your wedding with the blessings of simplicity, devotion and perfection.

Libra (August 9-September 8, 2010 and again from November 9-December 1 2010)
Venus in Libra Offering: Beauty and pleasure is her thing, so make sure you've got plenty of fresh flowers, amazing views and sweet smelling substances to please Venus in Libra.
Venus in Libra Blessings: Venus in Libra will bless your wedding with peacefulness, harmony, balance and, of course, beauty.

Scorpio (September 9-October 13, 2010; goes retrograde until November 18 and back into Scorpio on December 1, 2010-January 8, 2011)
Venus in Scorpio Offering: As a goddess of the underworld, Venus in Scorpio appreciates pomegranates, so leave out a bowl or arrangement of this ruby red fruit for her.
Venus in Scorpio Blessings: Venus in Scorpio will bless your wedding with depth, intensity, passion and power.

Sagittarius (January 8-February 4, 2011)
Venus in Sagittarius Offering: Venus in Sagittarius is honored by the untamed and free, so leave her something that comes from the wild and lives freely, like a pinecone or a feather.
Venus in Sagittarius Blessings: This jovial goddess will bestow the blessings of laughter, diversity and wisdom on your wedding.

Capricorn (February 5—March 2, 2011)
Venus in Capricorn Offering: Ruled by the mountain goat, Venus in Capricorn is honored by that which is steady and secure. Leave out a beautiful rock or crystal for her to admire.
Venus in Capricorn Blessings: Enjoy the sense of safety, stability and commitment that this goddess will lend to your wedding.

Aquarius (March 3-March 28, 2011)
Venus in Aquarius Offering: Quirky and offbeat, the Venus in Aquarian goddess is honored by gifts from the sky. Leave representations of stars, planets and other cosmic symbols to please her.
Venus in Aquarius Blessings: You'll have a wedding like no other with Venus in Aquarius involved. She'll bring you the gift of authenticity, freedom and uniqueness on your wedding day.

Pisces (March 28-April 21, 2011)
Venus in Pisces Offering: This oceanic Venus loves the sea, so if you can't get married by the beach, at least leave Venus in Pisces some shells or sand to honor her spirit.
Venus in Pisces Blessings: Gentle Venus in Pisces will bless your nuptials with romance, spirit and creativity.
Can't get enough astrology?
Like us on Facebook!