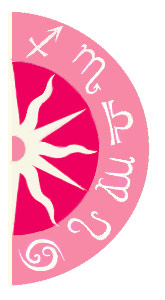 "There is a vitality, a life force, an energy, a quickening that is translated through you into action, and because there is only one of you in all time, this expression is unique. And if you block it, it will never exist through any other medium and will be lost."

-- Martha Graham

The planet linked with synaptic functioning, wheeling and dealing, contracts and all detailed matters is about to hit the reverse button on July 15 (until August 8). Let the freak-outs begin. When Mercury goes retrograde people tend to go into a panic and start bombarding their astrologers with questions like: "Do I have to wait to sign these papers? Can I start this new job? Is it okay to fly or will I lose my luggage or miss the plane?"

No, you should not suddenly put your life totally on hold and avoid all commitments, contracts and purchases. You just want to look at the fine print and make sure that you're willing to suffer some of the circuitous routes and inevitable re-dos that occur when things begin during the time Mercury is out of phase. On the plus side, it's an excellent time to return to old projects, places and people to refine your experience and understanding with them.

Share a free sample Personal Astrology Profile. What makes you unique? Discover a snapshot of the cosmos at your birth and the forces that shape you.

"People are very fond of giving away what they need most themselves. It is what I call the depth of generosity."

--Oscar Wilde

This particular Mercury retrograde falls in the fiery and creative sign of Leo. As with all Mercury retrogrades, we're being asked to pause, reflect and reconsider the areas of life that Mercury governs in our charts. All activities beginning with the "re" prefix are highlighted now especially: reading, resting, rethinking, revising, retreating, revamping and renovating. If projects, plans or contracts must be put on the back burner for a bit, not to worry. The delay is all part of a greater process, and more information must first be revealed before decisions are made and life can return to fast-forward once again.

Leo rules the heart and the realm of the inner child. The best way to use the power of this inspirational phase is to get in touch with what sets your heart on fire creatively. Self-expression is key and we are reminded not to take life and its dealings too seriously. A little drama is possible under the Leo influence and loving respect for your loved ones is key during this period. Prideful reactions to misunderstandings are the pitfalls of Mercury in the sign of Leo.

Don't be afraid to show your love through words and thoughtful actions. People are also more prone to bigger displays of generosity. If you're a cheapie, expect this transit to bust your stingy ways. If anything, heed the wisdom of this transit by giving first that which you hope to receive. When in doubt, always give more!
Is it time to take a new direction in life? Find out what your future holds with a Psychic Reading. Call 1-800-749-5790 right now!