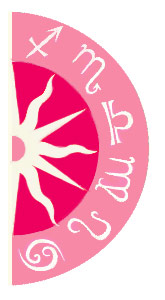 J.K. Rowling is back, this time penning a novel for adults. Having made enough money for several lifetimes, her latest novel, The Casual Vacancy, (due out on September 27) is obviously her labor of love and will be a dark comedy. While her fan base has grown up, will they follow her as she takes on this new genre?

J.K. is a Leo with a Libra Rising, which can spell a few mixed messages in terms of success. Financially, the money won't be as big as what she's use to, as serious Saturn is heading into her money house for a restructuring. However, fortuitous Jupiter will be in her Ninth House, which rules publishing. So despite not becoming a billionaire once again, The Casual Vacancy will have its fair share of critical success and curious fans to sell well and establish her in a new direction. By October, Saturn will be coming out of her First House (image) and will give her the chance to reinvent herself and seek a new type of fame and fortune.
Can't get enough astrology?
Like us on Facebook!