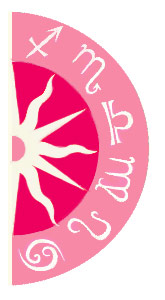 Eclipses are special kinds of new or full Moons. These captivating events happen when the Sun, Earth and Moon all occupy the same plane and influence each other's light.

Throughout history, an eclipse has been considered both a warning and a time of magic. Think of an eclipse as a time when, through various cosmic alignments, a window into a possible future is opened. If you like what you see, you'll be motivated to move towards your vision. If you don't, you may be inspired to make a change and create a new fate.

A new Moon, or solar eclipse, occurs when the Sun's light is blocked by the Moon. A full Moon, or lunar eclipse, occurs when the Moon's light is blocked by the Earth.

Eclipses occur in seasons, which happen twice a year, six months apart. An eclipse season occurs when the Sun is within 18 degrees of either the north or south node. Any new or full Moon that occurs with the Sun this close to the nodes is an eclipse. The closer the Sun is to the nodes, the stronger the eclipse.

Share a free sample Soul Mate Compatibility. Are you with your true Soul Mate? Discover if you are with the person that you can share sorrows and triumphs with!

Each eclipse has a ruler. This is the (traditional) ruling planet of the sign in which the Moon is placed at the eclipse. In a solar or new Moon eclipse, this is the planet ruling the sign in which the new-Moon, Sun-Moon conjunction occurs. In a lunar or full Moon eclipse, this is the planet ruling the sign in which the full Moon is placed. For instance, a new Moon eclipse in Libra is ruled by Venus; a full Moon eclipse in Scorpio is ruled by Mars.

At an eclipse, you have a chance to set powerful intentions (new Moon or Solar Eclipse) or receive insight and clarity (full Moon or Lunar Eclipse). Water can be especially healing and soothing during an eclipse, so treat yourself to extra baths, showers and swims during these energetically charged times.

In 2014, the following eclipses will occur:

- April 15, Libra Full Moon Lunar Eclipse
- April 29, Taurus New Moon Solar Eclipse
- October 8, Aries Full Moon Lunar Eclipse
- October 23, Scorpio New Moon Solar Eclipse

An eclipse will be especially important for you if it occurs on your birthday or your half birthday (six months after your birthday). An eclipse is also especially powerful for you if it aligns with a planet, like the Moon or Venus, or an angle, like your Rising or Mid-heaven.
Do you have unfinished business from a past life? Find out with a Psychic Reading. Call 1-800-749-5790 right now!