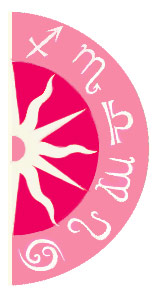 Jean Baptiste Lacroix/WireImage
This has been a love-filled week of engagements in Hollywood. It started with the surprise announcement that Natalie Portman is not only engaged to her Black Swan costar Benjamin Millepied -- she's also pregnant with their first child! Then LeAnn Rimes and boyfriend Eddie Cibrian took it up a notch and revealed their plans to wed. Finally, Reese Witherspoon's man, Hollywood agent Jim Tothalso, put a ring on it! What is up with this love trifecta?!

Obviously, the holidays do bring out that loving feeling. But this year the season was marked with a full Moon eclipse in Gemini on December 21 -- which marks an ending and a rebirth. For Natalie and her boyfriend, who are both Geminis, it affected their First House, changing up their identities. For LeAnn, a Virgo with an Aquarius Rising, it was in her natal house of true love. And for Reese, an Aries, the eclipse took place in her house of negotiations. All in all, despite the eclipse hitting them in various places in their chart, the outcome is the same -- and because of the eclipse marking this transit in their life, it also makes it an auspicious one.
Can't get enough astrology?
Like us on Facebook!