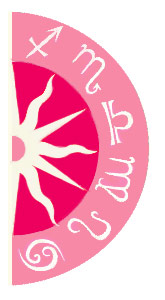 Most people are happy that Daylight savings has given us another hour of light at the end of the day. As the Sun approaches the point of the Spring Equinox, it will move from South of the equator, balance there for a day, and then start its journey up to the North until it reaches it's highest point at the Summer Solstice.

The Spring Equinox marks the day on which the hours of day and night are equal. The darkness and the light are balanced. As with the Earth, so goes it with us. Since we are affected by the cycles of the Earth, this time can become a time of psychic balance for us. The darkness and death of winter have disciplined us - hopefully, it has been a time of introversion and introspection, and now we are ready for a rebirth.

In one ancient story, the Spring Equinox is the time when the goddess Demeter is reunited with her daughter Persephone, who has ruled the Underworld during the winter months as Queen of the Dead. Now she returns to the upper world, not as the Queen of the Dead but as the Spring Maiden, bringing with her new life and fertility.

This Spring Equinox is especially important, because when the Sun moves into the sign of Aries, it will connect to the three energies that helped shaped the 60s and which are shaping our times as well in this next phase of their cycle. This means that the only way to change the world is through people working for that change.

The Aries Sun will first oppose Saturn in Libra, an energy that demands we face our relationships realistically. This gives us the opportunity to become aware of how we deal with our relationships. Are we selfish? Too giving? We need to find the balance between self and other, and the best way to do that is to know who you are so you know what you can give and not give in your relationships.

Then the Aries Sun will square Pluto in Capricorn, the energy which is re-constructing our government and financial systems. How are we facing the re-structuring? We can no longer sit back and expect that either government or corporations will take care of us. It is time to figure out how you individually want to create your life in this time of change.

The Sun connected with the third planetary energy, Uranus in late Pisces on Tuesday, right after the new Moon in Pisces. Uranus is the Awakener, the energy of sudden change, revolution and freedom.

So you see, this Spring Equinox will become an important marker on our way into the future. Aries is about discovering our Identity. We can do that each year at the Spring Equinox. But this year, we need to discover our identity in relationship to the larger forces at work in the world.

How are we going to change our world?

Until next time,
Sweet Dreams!