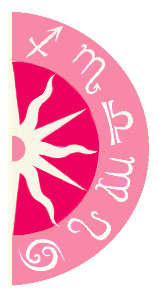 As the weather begins to warm up and you start thinking about what you'd like to do in your garden this spring, keep these simple Feng Shui tips in mind. Time in the garden is not just about improving your green space – it will help recharge your chi and create more positivity in your life!

There are nine centers on the bagua board, each symbolizing a different area of life and corresponding to unique elements and colors. [Explore the bagua board in our Feng Shui section.] Including these influences in your garden can help you create more balance. The most important Feng Shui tip is to clear clutter, so if you notice you've got overgrown plants or other general garden build up, tackle that first.

Love and Relationships
The far right-hand corner of your garden connects with the romance. Include plants and flowers that are red, white or pink in this zone. Consider planting pairs of trees here (like fruit trees that rely on each other for pollination).

Public Reputation
The middle-back section of your garden governs fame. If you're hoping to improve your profile or gain publicity, include strong red-colored plants here. Relating to the fire element, you can boost your chi with candles, lights or bird feeders in this area.

Prosperity
The far left-hand corner symbolizes wealth. Key colors for boosting prosperity include blues, reds and purples. Consider planting evergreen berry shrubs here to ensure you have strong chi year round.

Health and Family
The middle-left section pertains to health and family. Being ruled by the wood element, this spot is ideal for large trees or wood based pergolas. For flowers and plants, opt for those that bloom in shades of blue or have lush green leaves.

Center
Feng Shui considers the center of any space to be key in maintaining balance. Keep the central section of your garden clear and open. Connected to the earth element, stone, rock or pottery displays here can be useful in creating and maintaining calm.

Creativity and Children
Astrology and Feng Shui link the areas of creativity and children and this area generally signifies playfulness. Corresponding to the metal element, wind chimes or other air features (incense burner, mosquito coils, etc) are best placed in the middle-right of your garden. Opt for white or pastel colored blooms when planting.

Travel and Helpful People
The front right-hand corner of your garden links you to the world around you. Boost travel options and the amount of support you receive while on the road by incorporating white, gray and black shades here.

Career
Your professional zone is the front-middle section of your garden. As it connects to the water element, this is an ideal place for a water feature or bird bath. Anything that evokes cool (like shady trees or coverings) is ideal. Opt for plants with darker shades or black stones for paving.

Knowledge
The front left of your garden corresponds to the learning and development area. Ocean colors like blue, green and black are most effective here, and can be incorporated through plants or statues.
Can't get enough astrology?
Like us on Facebook!