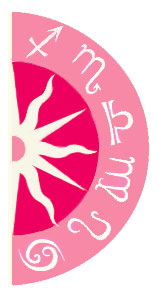 While the number three is all about process, the number four takes this moving energy and gives it form and structure.

Four is when we come home. Four represents everything that is solid, grounded, earthy and stable. There is an order to four that three can never achieve in its movement and play. Four is completion, as the process has to stop sometime and somewhere.

Four symbolizes the material world, the world of order and organization. The four arms of the cross stand for the four directions as well as the material world. The symbol of Christ on the cross represents how spirit must be incarnated in matter.

A perfect image of the number four is the greater trump, The Emperor, in the tarot deck. The Emperor establishes order on the wildness and disorganization of nature. The Emperor forms the collective and creates the rules and laws that keep that order in place.

Like the square that has four sides, four establishes boundaries and limits. It represents thinking inside the box. As you can see, four is very conservative.

There are four phases in the Moon's cycle: the new Moon of darkness and re-birth; the waxing Moon of growth; the full Moon of completion; the waning Moon of disintegration and death.

Four symbolizes completion and wholeness. Consider the four directions – east, south, west, north; four seasons – spring, summer, fall, winter; the four elements – air, fire, water, earth; the four psychological functions – thinking, intuiting, feeling, sensing.

Let's look at the four elements and psychological functions. "The essential function of sensation is to establish that something exists, thinking tells us what it means, feeling what its value is, and intuition surmises whence it comes and whither it goes." (C.G. Jung, CW6)

Air symbolizes thinking. How do we manifest thinking? Believe it or not, by holding the mind clear and balanced, by meditating. The best time to think is when we have a clear mind, one unencumbered by chaotic thoughts. That's when we understand what things mean.

Fire symbolizes intuition, the flash of inspiration that comes like a lightning bolt. When we ground our intuition, we see and understand the whole picture. We know.

Water symbolizes feeling, the ability to empathize and share on an emotional level. When we ground our feelings, we feel right about the world. We feel as if we are home, and safe, and true to ourselves. We are in alignment with our values.

Earth symbolizes sensation, the ability to experience the world through our five senses. When we ground our sensation, we experience the world through our bodies. We are in the present, and we know we exist.

So remember to be grateful for all the grounding that four provides us with. Without the number and energy of the number four, we wouldn't be here.
Can't get enough astrology?
Like us on Facebook!