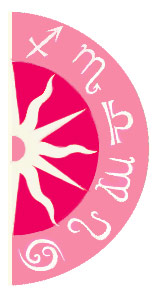 "Excuse me, but I just have to explode this body ..."
-- "Pluto" by Bjork

On Tuesday, July 3, the full Moon will be one of the most potent and potentially combustible of the year. Capricorn is cardinal Earth sign, ruling our integrity, bone structure and moral fabric. Full Moons are culmination points in our lives, where the issues inherent in the zodiac sign reach some kind of fever pitch. With Capricorn, we are being confronted by cracks in our integrity. Since Capricorn is ruled by Saturn -- boundaries, father complexes, rules -- many of these issues are sure to come to a head this week.

"I'll be brand new tomorrow. A little bit tired, but brand new."
-- "Pluto" by Bjork

We cannot overlook the fact that Pluto -- god of Hades -- is joining up with this full Moon in the constellation of Capricorn and making a very sharp angle to the wildcard planet: Uranus. Breaking this down into non-astrological lingo: anything goes -- but expect outworn structures that no longer support your integrity to break, blow and burn. The skeletons of fear, shame and guilt can no longer safely hide in the recesses of our closet.

Remembering that pain is our resistance to change will help during this time of powerful and inevitable one-way transformation. This is the kind of change where we cannot change back. Since Uranus in Aries is heavily involved in this full Moon, we must return to our authentic "I Am" principle and stop giving our power away to external daddies: government, boyfriend, husband, credit card, etc. Uranus promotes real freedom and authentic self-expression away from the herd mentality or outdated collective structures.

Some traditions support our core self, some undermine. It's up to each individual to decide where external allegiance either builds or destroys the core value system. Lessons of the Cancer Sun are another important part of this full Moon: feminine values are always a counterweight to the patriarchal and potentially oppressive forces of Capricorn. If you find yourself in a battle with your inner demons, drop down into your feelings. Stop beating yourself up. And most importantly: stop worrying about what the neighbors will think.

Explore your knowledge of all-things Moon in our "How Much Do You Know About the Moon" quiz!
Can't get enough astrology?
Like us on Facebook!