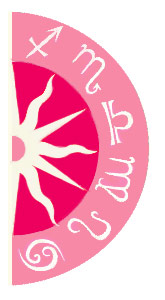 Time to roar! A full Moon in Leo this weekend casts a spotlight on your inner Lion. We all have one – the desire to shine for who we are.
If you are new to practicing sacred lunacy, working with the monthly Moon cycle is like working with your breath. A new Moon is akin to empty lungs, waiting to be filled. The waxing Moon is like inhaling, drawing life-force into yourself. The full Moon is like the moment when your lungs are full, potent and energized. And an exhalation is similar to the waxing Moon, relaxing and releasing. Timing your activities with this cycle can help you move with the earth's rhythms to accomplish your goals.
The full Moon is associated with all energized states -- heightened passions and emotions, sleep disturbances and strange dreams. The feeling often lasts for a few days before and after the precise full moon. The zodiac sign of the full Moon suggests something of the quality of this energized feeling.
This weekend's full Moon, on Jan. 26 at 8:38 pm PST, falls in the sign Leo. The essential need of the zodiac sign Leo is creative self-expression, in all its glorious forms. What you create is not nearly as important to Leo as that you create from your heart, in a spirit of discovery and joy.
Young creatures of all species naturally exemplify this kind of spontaneous originality and playfulness. Sadly, through the hard knocks of life, many adults seem to have misplaced this spark.
If you are feeling like a soggy kitty (or even if you aren't), a Leo full Moon is the perfect time to get your groove back. Need a little reminder about how to do that? Try one of these seven techniques for becoming more playful – or even try them all!
(1) Watch a funny video, listen to silly songs, or read something funny. Anything that gets you to smile
(2) Do something spontaneous. Walk away from your computer and go outside. Walk barefoot. Take a walk without having a plan.
(3) Play a game. Download an app for fun. Or just play solitaire.
(4) Be with someone playful. Playfulness is infectious. Play with children or young animals, or even adults with a twinkle in their eye.
(5) Be creative. Dance, paint, sing, color with crayons. Doodle on your reports, if you're out of paper.
(6) Break the rules. Rules are meant to be broken, right? Do something a little naughty. Play hooky.
(7) Do something courageous. Something you've always wanted to, but been afraid to try. The activity you choose doesn't matter, as long as it stretches your personal boundaries.
What other heart-opening, laughter-inspiring activities do you recommend? Express yourself and add your suggestions to the comments below.
Astrologer and change-catalyst Donna Woodwell lives in Austin, Texas. You can also catch up with her at fourmoonsastrology.com, on Facebook at facebook.com/fourmoonsastrology on or Twitter @lunalicious.