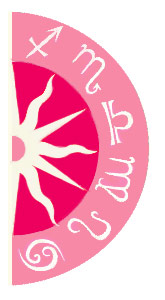 The full moon peaks in Pisces today signaling romance for Virgos and Scorpios. For Scorpio, this full moon will illuminate your fifth house of true love. Let your feelings out in the open. If someone's making your heart race, you could decide to take it to the next level by becoming exclusive with one another. If you're single, keep on the look out because romance could easily blossom. Something significant could happen in and around this full moon, so be ready, willing, and open to the possibilities. For Virgo, the full moon will illuminate your 7th house of marriage and partnerships. An engagement or greater commitment to the one you love could be a big possibilty now. A major development in partnership matters could be ahead of you!
Can't get enough astrology?
Like us on Facebook!