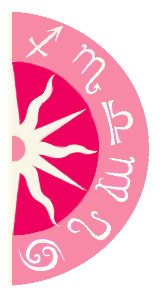 Gahl Sasson is an established author and has been teaching workshops on Kabbalah, Astrology and Mysticism around the globe for over a decade. His first book,
A Wish Can Change Your Life
, has been translated into over seven languages and is endorsed by HH the 14th Dalai Lama. His latest work,
Cosmic Navigator
, is the essential reference guide to understanding your astrological makeup, a GPS of the soul.
Share a free sample 2014 Day-By-Day Forecast.Look forward to 2014 with this forecast as your road map. Get a free one-week preview now!
Gahl is an active contributor to the Huffington Post. His encyclopedic knowledge and charismatic presence have also made him a sought-after guest speaker. He has appeared on CNN, ABC News, KTLA-TV Los Angeles. He teaches at Esalen, Omega, Open Center NYC, and the University of Judaism. Gahl currently resides in Los Angeles, but tours regularly throughout North America, Europe and Asia. Feel free to visit his website, CosmicNavigator, to discover more about Gahl.
Got Questions? Need Answers? Get insight into what lies ahead with a Psychic Reading. Call 1-800-749-5790 right now!