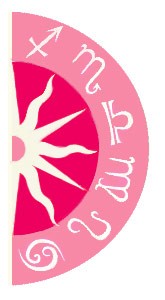 Beyoncé turns 31 today! Having had one of her most exciting years -- becoming a mom -- what will the upcoming year hold for her? What astrological adventures are in store for her?

As a Virgo, Leo Rising and Virgo Moon, Beyoncé will be fully out of her Saturn Return and ready to take on life with a lot less personal hassles. As a Leo Rising, she will have a lot of pressure in her family section, which can mean expanding her brood, but she can have trouble finding the time to do it the way she wants. It can also mean relocation or some major shifts in her family life -- especially dealings with her mom. Luckily, her associations will be her ace in the hole, as the crowd she is around will be helpful in getting her hopes and dreams met. Seems her career might take a more space-age sort of spin, as technological advances will play a big part in how she will expand her empire. As it goes, there will be no slowing down Beyoncé. It seems her career's theme is "catch me if you can."
Can't get enough astrology?
Like us on Facebook!