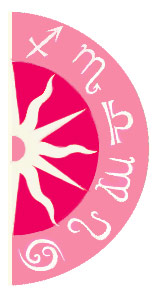 Scarlett Johansson is an A-list babe starring in
The Avengers
, due out this Friday, and was
GQ'
s 2010 babe of the year. But despite it all, she's had a slew of bad luck in love -- from her divorce with Ryan Reynolds to her bizarre relationship with Sean Penn. Now, she's been seeing Nate Naylor for eight months, an ad exec from NYC, and things have been getting serious. So, is he the one for her?
Share a free sample 2014 Vedic Moon Sign Forecast.Take a look at how the transit of planets will affect your relationship and finances in 2014!
Scarlett is a double
Sagittarius
with a
Scorpio
Moon
, so she is always striving for an ideal love, and can be too fast to bond, yet slow to trust. The good news is she's not dating within Hollywood anymore. Her man is 38, a decade her senior, which is perfect -- as she has her
Venus
and
Mars
in
Capricorn
and will do better with someone older who can guide her intellectually and offer a stable sense of self she can rely on. Plus, with her eclipse cycles going at it and the love planet Venus all in her commitment house now, and lucky
Jupiter
joining her for an entire year, chances are good this relationship may last for quite a while.
Got Questions? Need Answers? Get insight into what lies ahead with a Psychic Reading. Call 1-800-749-5790 right now!