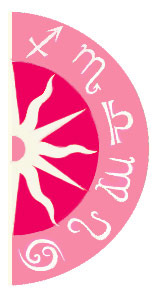 Heather, the Cosmos Gal, has studied astrology since 1992 and is an accomplished author and television producer. To date, she is one of the most prolific creators of astrological video content for the Internet. She has written thousands of video horoscopes ranging from daily predictions to various subject matters such as love, fashion, beauty, wealth, sex and travel. She is the author and host of Cosmos Love, an interactive DVD packed with over 250 videos that detail how love, sex and relationships are influenced by astrology. Heather's daily 'Cosmos Love Horoscopes' are the official video horoscopes of Astrology.com. Each day she writes and produces a unique love horoscope for each zodiac sign that is featured on our daily horoscope page. Feel free to contact Heather at thecosmosgal@gmail.com.

Share a free sample Soul Mate Compatibility. Are you with your true Soul Mate? Discover if you are with the person that you can share sorrows and triumphs with!

Check out Heather's blog, Cosmos Love.
What romantic adventures are in store for you? Get a Free Psychic Reading today. Call 1-800-749-5790 right now!