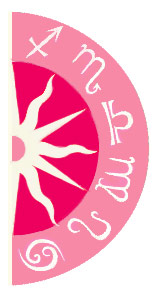 Getty Images
Happy Valentine's Day! With Hollywood being the craziest place for make-ups and break-ups, here's a look at the best way to say "I love you" to the stars -- and celebs!

Aries: They adore surprises of any sort -- presents, dates, kisses.
Celebs: James Franco, Reese Witherspoon.

Taurus: A romantic dinner with scenery and all their favorite foods.
Celebs: George Clooney, Jessica Alba.

Gemini: A written or verbal declaration. They prefer words to action.
Celebs: Blake Sheldon, Angelina Jolie.

Cancer: Anything with sentimental value and they'll melt.
Celebs: Lindsay Lohan, Tom Cruise.

Leo: They want to be shown off to friends and family.
Celebs: Madonna, Ben Affleck.
Share a free sample2014 Jobs and Money Forecast.Master your money and attain success with this startlingly accurate forecast!
Virgo: Win their heart by listening to their opinions -- often.
Celebs: Cameron Diaz, Keanu Reeves.
Libra: They're thrilled when you match their style to suit theirs.
Celebs: Kelly Ripa, Snoop Dogg.

Scorpio: Blow them away with an obscure gift they mentioned in passing.
Celebs: Demi Moore, Brad Paisley.

Sagittarius: Hand them a plain envelope with two tickets to paradise inside.
Celebs: Britney Spears, Adam Brody.

Aquarius: In an obscure yet heart-melting gesture, share one of your passwords.
Celebs: Joseph Gordon-Levitt, Chloe Moretz.

Pisces: Leave something overnight at their house, like a toothbrush.
Celebs: Dakota Fanning, Justin Bieber.
Got Questions? Need Answers? Get insight into what lies ahead with a Psychic Reading. Call 1-800-749-5790 right now!