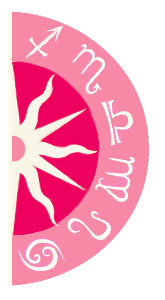 This year closed with a bang as Kanye dropped the big news that Kim is preggers! While these two have made their narcissism work for them, a baby is sure to change it all. With seven months to go, chances are the baby will be a Leo, which means a big bundle of energy, drama and ego. How will they hold up as parents?

Kim is a Libra with a Sagittarius Rising, so there will be no slowing down for her. She'll do all that she normally does, but with a baby on her hip. While not the most naturally mothering gal, she'll evolve into being a good parent as her child gets older. She's more about interacting with her kid than the manual part of taking care of a baby. Meanwhile, Kanye is a Gemini with a Cancer Rising, making him more maternal, in the sense of protecting and being affectionate. Together, their elements of Air and Fire will mix well. It will be in this baby's DNA to smile pretty when the cameras are rolling.
Can't get enough astrology?
Like us on Facebook!