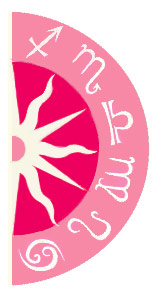 Since the sudden death of her boyfriend and co-star Cory Monteith, Lea Michele has been laying low -- until her emotional moment at the Teen Choice Awards this weekend. While it will take time for her to grieve, what is her future like? Will her heart go on?

Share a free sample 2014 Romantic Forecast. Get a free preview of your one-week Romantic Forecast! Make the most out of your love life!

Lea is a Virgo with a Cancer Moon, which means she isn't a girl who's going to run before she can walk. Plus, she's lucky to have Jupiter in her solar Eleventh House until June 2014, indicating that her friends will be there for her in a big way. Also, since she's born with Jupiter in Pisces (complementing her Virgo Sun), she tends to be lucky in partnerships and commitment. There are no major love aspects in her solar chart for a long while, so it could be until 2015 that she finds a fully committed relationship, as it will only be then when aspects will be on her side -- what with disciplinary Saturn out of her romance house and lucky Jupiter in committed Virgo.
Let love find you. Be guided to your soul mate with a Free Psychic Love Reading. Call 1-800-749-5790 right now!