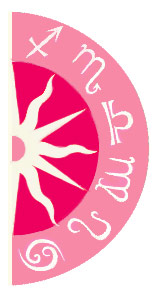 After eight years together and a two-year-old daughter, Olive, actress Isla Fisher and Sasha Baron Cohen (Bruno) have finally tied the knot. However, like most things in Hollywood, relationships never come with a lifetime guarantee -- and while many couples have found happiness long before going to the altar, saying "I do" can be the kiss of death for high-profile lovebirds.

Share a free sample 2014 Day-By-Day Forecast. Look forward to 2014 with this forecast as your road map. Get a free one-week preview now!

Astrologically, this pair has a strong bond. They are both air Sun and Mars signs, and they operate on the same wavelength. Isla is an Aquarius with a Gemini Mars, and Sasha is a Libra with an Aquarius Mars. While their Moon signs (ruler of emotions) do clash -- she is a Pisces and he is a Leo -- both of those signs do have an extremely romantic way of seeing the world, and their imaginations tend to run wild. Of course, living in the public eye, this will work to their benefit and increase their chance at having a marriage that lasts forever!
Welcome new beginnings with a Free Psychic Love Reading. Call 1-800-749-5790 right now!