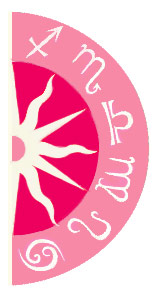 Getty Images
As Venus trines Neptune this weekend, make a kind offer to someone you know who is struggling -- and that includes yourself! Venus in Scorpio has a clear sense of true loyalty. This provides the perfect balance point to the boundless generosity of Neptune in Pisces.

Everyone is a little more intuitive under this alignment, which makes it important to follow your instincts. Music and random acts of kindness soothe tender souls now.

The Venus-Neptune trine occurs in caring Water signs, so there are no limits to wanting to give to those you love. Rather than smothering someone with your consideration, it's important to ensure your support is welcome.

If you're feeling rundown, overwhelmed or like you're floundering, this weekend is the perfect time to escape, lay low and recharge. Meditation, yoga, outdoor walks and journal writing help you make peace with yourself and let go of any past hurt.
Share a free sample2014 Romantic Forecast.Get a free preview of your one-week Romantic Forecast! Make the most out of your love life!
Neptune is ultimately about release, so as you notice yourself becoming sensitive about a particular topic, consider your sensitivity a clue as to what you need to release -- or give. Developing compassion is top priority, and luckily Venus and Neptune encourage a climate of healing for everyone!
Got Questions? Need Answers? Get insight into what lies ahead with a Psychic Reading. Call 1-800-749-5790 right now!