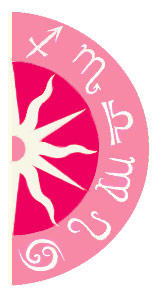 The hype for Johnny Depp to star in Tim Burton's adaptation of Dark Shadows is building. While Johnny's persona isn't far from that of a vampire, lately he's been seen out in L.A. more, like playing guitar with Marilyn Manson on stage to even hanging with an Olsen -- which has changed from his years absconded in France. So, what's up with this? Is Johnny coming out of his Dark Shadows?

Yes, expect to see more of Johnny, as this is his time to shine and show himself off! As a Gemini with a Leo Rising, he's in a new astrological phase that will have him more in the public eye. Between lucky Jupiter, adoring Venus and the surprise elements of the eclipses in Gemini that are all in play now, chances are there will be even more odd adventures and his mystique will grow even stronger. Of course, the biggest question is about his love status, which will be more obvious as the summer progresses, with the solar eclipse in Gemini on May 20, 2012 being the first of many crucial events.
Can't get enough astrology?
Like us on Facebook!