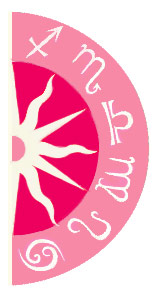 Share a free sample Friends and Lovers. Are you two best friends and lovers? Try a free sample of this powerful reading today!
Venus and Saturn make the cosmic headlines June 12th as they send happy vibes to one another at exactly 27 degrees. With Venus in sentimental Cancer, ruler of the house of family, and Saturn in communicative Virgo, this is a great time to share memories and good times with your family. If you don't have weekend plans already, the cosmos is encouraging you to pick up the phone and call your loved ones. Plan a little family reunion if you're able to! If you don't have loved ones near you, but your sweetie does, then make it a point to spend some time with them togther. And, if you don't have a sweetie or family, then surround yourself with those people who make you feel like family. Fun times can be had by all this weekend, and you'll want to be close to your nearest and dearest!
Stay tuned for Part Two!
What romantic adventures are in store for you? Find out with a Psychic Reading. Call 1-800-749-5790 right now!