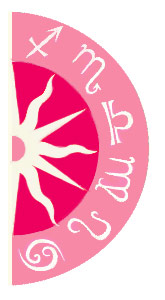 Getty Images
Things are heating up between Jennifer Aniston and Justin Theroux. Having made their public debut at the MTV Movie Award's after-party at Hollywood's Soho House and Jennifer throwing a private get-together for her besties Courteney Cox and Chelsea Handler to meet her new man, are things serious? Has Jennifer found "The One?"
Share a free sample 2014 Day-By-Day Forecast.Look forward to 2014 with this forecast as your road map. Get a free one-week preview now!
Astrologically speaking, these two have a fab simpatico. Jennifer is an Aquarius Sun, Sagittarius Moon, Mercury in Aquarius, Venus in Aries and Mars in Scorpio. Justin has a Leo Sun (which complements Jennifer's Sun) and a Sagittarius Moon, which makes their fiery Moons in sync, too. Plus, with Justin's Venus also in Aries, they both share a Fire element, which give them the same spontaneous and passionate approach to pleasure.
However, Justin's Mercury is in Virgo and his Mars is in Aquarius. These both are at harsh angles to Jennifer's, but since her Sun is in sync with his Mars, it can make up for some of the tension. Overall, their biggest challenge will be in communication. Jennifer has a more ethereal way of looking at life, while Justin is more pragmatic. Overall, with all their other love planets blending well, they have a great shot at true love!
Got Questions? Need Answers? Get insight into what lies ahead with a Psychic Reading. Call 1-800-749-5790 right now!