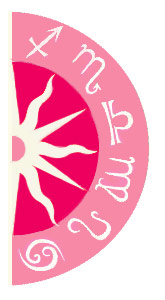 Donato Sardella/WireImage; Frederick M. Brown/Getty Images
Charlize Theron and Keanu Reaves were spotted dining in Beverly Hills on May 3, and while they're friends, costarring twice in movies (
The Devil's Advocate
and
Sweet November
), the intimate embrace they shared after their cozy meal has Hollywood in a tizzy. Are they a new "it" couple in the making?
Share a free sample Year of the Wood Horse Forecast. The Year of the Horse is a time of positivity and luck! Get a preview of what the year holds for you!
As a double Leo, Charlize is having the perfect aspects to start new romance, as she is hosting Mars (the sex planet) in her First House. Additionally, Keanu is a double Virgo and currently has Jupiter (planet of luck) in his house of commitment. While they both are in line to start something new in their love lives, dating each other seems unlikely. There are a few aspects between them that can spark an interest, as in compatible Mars in their natal charts, but their Moon and Sun signs don't have enough fire to keep the flames going, which means friendship is likely their strongest bond.
Find your path to fulfillment with a Free Psychic Reading. Call 1-800-749-5790 right now!