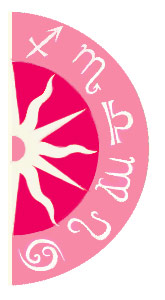 Kirsten Stewart is in the middle of a heated love triangle — or square, as reports are she hooked up with her married Snow White and the Huntsman director, Rupert Sanders, while dating Robert Pattinson. Coming across as an apathetic youth, this news shocks on many levels. What makes Kristen so wanted? What's her love style?

Share a free sample 2014 Jobs and Money Forecast. Master your money and attain success with this startlingly accurate forecast!

Kristen is an Aries, Cancer Rising and Libra Moon, which means the more intimate you get with her, the more delicate and sweet she becomes. As an Aries, she can be a tough exterior to crack, plus Cancer-Rising people are never so easy to get to know either, as they work from the notion that they hate you before they can like you. So this poses a challenge for any man who seeks her out.

Also, with her Mars in Aquarius and Venus in Pisces, she does the hot-cold thing very well, in which she can play the damsel in distress yet be detached the entire time. All in all, she never truly gives up her emotions -- but then opens up in the bedroom unexpectedly.
What romantic adventures are in store for you? Find out with a Psychic Reading. Call 1-800-749-5790 right now!