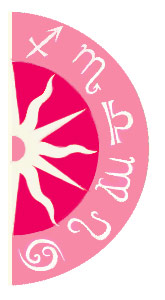 Bridesmaids was the comedic runaway hit of 2011 and rightly so, winning Kristen a Golden Globe nod for Best Actress in a Comedy. However, the competition is stiff, with Michelle Williams in My Week with Marilyn and Oscar winners Jodie Foster for Carnage, Charlize Theron in Young Adult and Kate Winslet in Carnage. The contenders are dramatic actresses -- will this benefit Kristen and can she swoop in for the win?

Share a free sample 2014 Jobs and Money Forecast. Master your money and attain success with this startlingly accurate forecast!

Kristen has the stars on her side! As a Leo, she currently has Jupiter, the planet of luck, in her career house and aligned with her natal Mars in Taurus, which is the planet of ambition. These are two powerful planets rooting for her to pull in for the win. Plus, with Mars currently in Virgo, which harmonizes with her natal Mars, it only adds fuel to her fame-driven fires. She will likely be on a roll throughout the first half of 2012, with her career picking up and going to the next level beyond even her expectations!
What romantic adventures are in store for you? Find out with a Psychic Reading. Call 1-800-749-5790 right now!