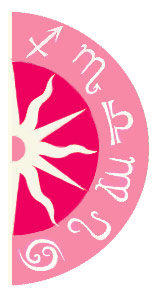 HarryPagancoss.com
Astrology-based dishes may bring about optimal bliss. Depending on the planetary alignment, the Sun and the Moon, we can prepare delicious recipes to help the capriciousness of the Stars!Here are is a cocktail inspiration for Leo's generous and unique nature: A variation of an apple martini. In this case, I am substituting the usual vodka or gin for a light rum to add a little spice. Leo's unique attitude toward living life to the fullest without asking questions will be well-served with this tasty cocktail. Always drink alcohol in moderation and remember to keep it sweet!If you enjoy this recipe, join me on Facebook.com/HarryPagancossLeotini oz sweet vermouth oz dry vermouth1 oz light rum1 oz apple juice drizzle with edible gold dustUsing a cocktail shaker, mix all ingredients with a little ice and poor over a well-chilled martini glass.
Can't get enough astrology?
Like us on Facebook!