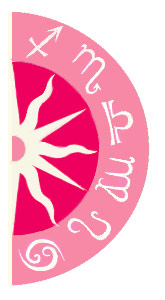 Bravo announced Lisa Vanderpump as the one to get her own spin-off show from their Real Housewife of Beverly Hills franchise. Named Vanderpump Rules, the show follows the happenings at her L.A. eatery, Sur. With previews out now (the show debuting on January 7), the reviews are tenuous. Some say the obvious flaw is that there's not enough Lisa. So, will the show be a hit or miss?

Lisa is a savvy Virgo, which means she isn't one to step into a business deal unless she knows all the variables. With Jupiter in her solar career house, it does show success will be stronger from now until June 2013, but Saturn is in the part of her chart that rules television. Her restaurant's reputation could go down a few notches down, from chic fine dining to pop culture attraction. No matter, big bucks are in the works, and if that's all she's after, then Jiggy won't have to worry about downgrading from cashmere to cotton-poly blends.
Can't get enough astrology?
Like us on Facebook!