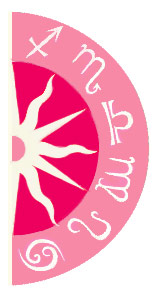 Alberto E. Rodriguez/Getty Images
Irish bad boy Colin Farrell turns 35 today -- and he has some big plans for the future. He's got the eagerly anticipated Fright Night remake coming out this summer, and his Total Recall reboot is already receiving hype -- and it's not even due out until 2012! But though his career has been on a big-time upswing, his love life hasn't: He has remained single since October 2010, after he left girlfriend Alicja Bachleda-Curus, who is also the mother to his second son. So, is there new love on the way?

Colin, a Gemini, with Capricorn Rising and a Cancer Moon, isn't going to lack opportunities for love over the next year, as he is about to receive lucky aspects into his romance house on June 4. While this indicates good times for up to a year, it doesn't necessarily mean commitment. And, since it also rules his Fifth House, it also means that over the next year Colin might add more children to his brood. Either way, it won't be until June 2012 that he will likely find himself in a serious relationship, as Jupiter will align with his Sun and his Venus, marking his luckiest time for love.
Can't get enough astrology?
Like us on Facebook!