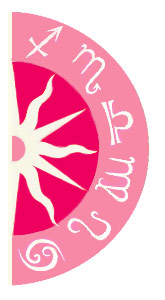 Chinese New Year is a spring festival that occurs around the time of the second new Moon after the Winter Solstice. In 2014, this new Moon occurs on January 30, ushering in both the Year of the Horse year and Tiger month.

Tiger brings powerful energy, getting this Horse year started with a bang! Horse and Tiger are best friends, along with Dog as well, so right out the gate Horse energy is in sync! Even the retrograde planets occurring at this time won't slow down the lively energy of Horse and Tiger.

Share a free sample 2014 Romantic Forecast. Get a free preview of your one-week Romantic Forecast! Make the most out of your love life!

On Chinese New Year, the Sun and Moon are in always in Aquarius. In 2014, the Sun and Moon in Aquarius sextile Uranus in Aries, bringing a unique energy to this year, making it a time to take risks, explore new pathways and open doors. Horse year is superb for travel, so plan that far-flung adventure you've always dreamed of!

Venus, Jupiter, Uranus and Pluto are in a challenging square, which could cause chaos or confusion. But the strong and bold Horse thrives on action, so just keep moving forward and create change like these beautiful creatures are known to do. 2013 -- year of the Snake -- was a time for thoughtful contemplation. Horse comes running in this year reminding us it's time to act! Good luck and Happy New Year!
Let love find you. Be guided to your soul mate with a Free Psychic Love Reading. Call 1-800-749-5790 right now!