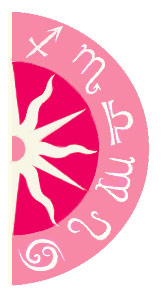 As ambitious Mars moves into practical Capricorn now through December 27, it's time to get real. Mars gives Capricorn a powerful boost, and encourages us to make things happen. There's no time for relaxation now, as all energy is focused on excelling. Don't give up if things don't work out the first time around. Instead, look at your weaknesses, improve your skills and try again. Failure is not an option with Mars in Capricorn!
Share a free sample2014 New Astrology Forecast.Get your 2014 Year of the Horse Astrology Forecast featuring your Chinese and Western Signs today!
Earth Signs (Taurus, Virgo, Capricorn)
Earth signs shine during this period, as their innate patience and persistence pay off. If they keep on keeping on, all will be well.

Water Signs (Cancer, Scorpio, Pisces)
The form and structure of Mars in Capricorn can help Water signs bring their dreams into reality. Mimicking Earth-sign qualities (practicality, stability, commitment) helps to manifest amazing results.

Fire Signs (Aries, Leo, Sagittarius)
Though these fiery signs may feel impatient and stifled as Mars moves through Capricorn. Success can be theirs if they keep working towards their dreams, despite any obstacles that may arise.

Air Signs (Gemini, Libra, Aquarius)
Mars in Capricorn may feel slow and boring to Air signs, but it's this careful, thoughtful action that will bring their ideas into the real world. If they take their sweet time, they'll be successful.
Got Questions? Need Answers? Get insight into what lies ahead with a Psychic Reading. Call 1-800-749-5790 right now!