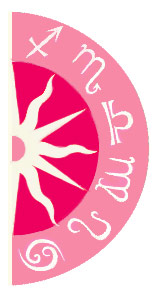 "My soul is impatient with itself, as with a bothersome child; its restlessness keeps growing and is forever the same. Everything interests me, but nothing holds me. I attend to everything, dreaming all the while … I'm two, and both keep their distance -- Siamese twins that aren't attached."

-- Fernando Pessoa

When the planet ruling our energy and relationship with discord enters the mental realm of Gemini on May 31, words become the weapons of choice. Our minds are restless and our energies scattered. The duality of Gemini is pronounced in our current modus operandi. There's a zippy, racecar energy in the air as we zoom around in a reckless fashion.

Share a free sample Soul Mate Compatibility. Are you with your true Soul Mate? Discover if you are with the person that you can share sorrows and triumphs with!

We may feel neither here nor there, but in constant motion. Flipping channels, changing lanes, changing our minds, pacing, quickly switching modes, changing directions, etc -- these are all typical energetic patterns under the current mercurial influence. Boredom breeds frustration breeds anger breeds lashing out.

Our minds are seeking constant stimulation and, when provoked, we'll reach for a verbal arsenal. Try not to pull out the heavy artillery during this transit, as words can often cut even deeper than physical violence. Words can pierce some of the most vulnerable layers of our psyche, leaving a lasting impression. These damaging and often traumatic imprints deliver a potentially fatal blow.

Also watch out for duplicity in thought, word or action. With Gemini, trickster energy is always present. If you need to make a deal with your inner salesmanship, now is the time to access the clever energy of Gemini to access the perfect words and packaging.

This is an excellent time to channel your energy into the verbal-mental realms in constructive ways such as writing, planning, teaching, learning and schmoozing. Curiosity could easily kill the cat, so don't let the trickster side of Mars lead you into dangerous territory via gossip or innocent forms of stealing. A good mantra for this transit is, "Mind your own business."
Is it time to take a new direction in life? Find out what your future holds with a Psychic Reading. Call 1-800-749-5790 right now!