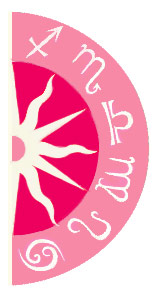 Looking better than ever, Angelina Jolie and Brad Pitt were all smiles on the red carpet at her Salt premiere. Having survived all the breaking-up rumors earlier this year, fans wonder, are more babies on the way? Already raising six adorable tots, the Jolie-Pitt household is operating at full capacity. While Angelina has said that, right now, they have a good balance and wouldn't want to increase the headcount, are they really done adding children to the family?

Share a free sample Career Strengths Reading. What are your strongest talents at work? The answers await with this unique reading!

If there are more kids coming, chances are the next child will be adopted, because it's Angie's international relationship house that is getting lit up with the strongest influences, including her natal Mars (fertility planet) getting a boost of energy from the current Jupiter transit. This lucky transit also is going through Brad's house of children, so if activated, news of yet another Jolie-Pitt child joining their happy family will arrive no later than June 2011.
Seek wisdom from your inner self! Get a Free Spiritual Reading today. Call 1-800-749-5790 right now!