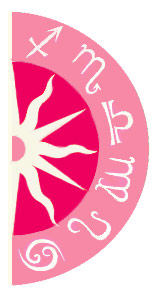 Maria Shriver officially filed for divorce from Arnold Schwarzenegger this week -- now they need to divvy up their $400 million in assets. While Maria will no doubt get her fair share, as she has handled herself gracefully throughout this whole scandal, what is in her stars for the next year? Is there a new love?

Share a free sample 2014 Jobs and Money Forecast. Master your money and attain success with this startlingly accurate forecast!

Maria is a Scorpio, Taurus Rising and Leo Moon. This makes her a triple-fixed sign with a resilient ability to deal with trauma. Plus, as a Scorpio, the sign that rules transformation, she has a gift to rise even higher after being put through hardships. Luckily, she won't have to be down too long in the game of love or life, as Jupiter is now touring in Taurus. This is happening in her natal identity house and solar commitment house, which can have her in a new serious relationship no later than June 2012. Not only that, but new career opportunities will like take her into a whole new lifestyle that can have her focused on all her deepest dreams.
Need to know the answers? Put your mind at ease. Get a Free Psychic Love Reading today. Call 1-800-749-5790 right now!